In typical Millennial fashion, I woke up one morning rolled over and grabbed my phone from its wireless charger and immediately started scrolling through Instagram. As I scrolled through Instagram, I come across a Vaultek ad for the VT10i.
I've been using an old "Gun Vault" portable safe for travel for a while, and I was over it, but I could never find anything I cared about enough to replace it. That is until I came across the VT10i Vaultek ad. I instantly fell in love with not only the look of the safe but also the tech. I carry two iPhones, a MacBook and an iPad just about everywhere I go so I'm pretty big on tech.
I wanted to buy the safe right then and there through the IG ad but my wallet that contained my credit card was annoyingly downstairs and my laziness was at an all-time high. So, I lied to myself and said I'd remember to buy the safe when I got my hands on my wallet.
Fast forward to my trip to Arizona for my ADVOCATE gun tour at a local gun shop. I was walking through the shop when I came upon a Vaultek display. To my luck, the rep working the display recognised me and asked if I was familiar with their product? I told him I was but only through Instagram. At that point, he asked if he could send me one of their safes to test. I almost blurted out, "Hell Yeah", but I composed myself and said, "Sure". After that, the rest they say was history.
WHAT DO YOU GET FOR YOUR MONEY WITH THE VAULTEK VT10i?
Let me start by saying, "This ain't your granddaddies portable Safe". Just from the packaging alone, I could tell Vaultek was adamant about providing their version of a modern-day portable safe and it shows.
Vaultek's Brutish Industrial Minimalism adorned w/ Tech.
As far as looks go, the VT10i looks like a portable safe. Granted, a futuristic, high tech, portable safe, but a safe none the less. The Hard shoulder line creases give the safe definition which provides it with a very Brinks truck-like appearance but still soft enough fit into your home decor and not stand out like Mike Tyson working at a chuck e cheese.
The VT10i looks incredibly durable yet inviting. The illuminating lights are a great touch. The rubber cover of over the keyhole is also a nice touch. The VAULTEK logo is pretty damn prominent but not in a tacky way, but it mostly stands out because there's really nothing else on the safe. It's Brutish Industrial minimalism adorned with subtle indicators of tech. It doesn't try too hard to look futuristic or fashionable. Not that there's anything wrong with that, granted the safe also comes in what they Call Alpine White, titanium grey and Urban Camo.
Keep this in mind, if you're hard on your safe like I am, you'll start to see little marks on the safe. They honestly don't bother me at all. Most of the time, I can take a wet rag and wipe most of the marks off. Otherwise, I don't care as you only see them at certain angles under the right light. The marks mostly pertain to the black color which is a powder coat finish. Again, the marks are minimal, but they will happen if you're hard on your safe.
Vaultek VT10i's Full-size functionality in Portable Form
The Vaultek VT10i is just small enough and light enough to be a travel case while being big enough and sturdy enough also to be a full-time desktop or a wall mounted safe. When I'm not travelling, I use the VT10i as a desktop safe in my office. I'm single with no kids, but I do have the occasional guest over, and I'd rather not let them have direct access to my firearms, so I put my "Home Office Gun" in the safe when I do have a guest.
When I check into hotels, I usually set the VT10i up like I'm at home. I place it on the desk or the nightstand. Doing this allows me to easily keep it out of sight from housekeeping or a quick place to put my gun when room service is delivered; especially in antigun states. I've also used the safe in the car whenever I am in a State that requires the gun to be locked and unloaded during transportation.
I can keep my magazines on me and if need be and the biometric scanner and number pad gives me relatively quick access to what would otherwise be utterly useless attempt at trying to find the key, unlocking the case and then getting to my gun. I don't do this often as each anti-gun state is different.
It is 5.2lbs, so it's not the lightest safe in the world, but it's also constructed of Progressive Formed 18-gauge steel. The case also features a signature unibody design without welds and four pre-drilled mounting holes on the bottom. For me, weight is usually a concern when it comes to meeting baggage weight, which is typically 50lbs.
Since moving over to the VT10i, which is a tad heavier than my old safe, I haven't had a problem meeting my weight limit when I fly. I've carried the VT10i in duffle bags, suitcases, and backpacks and it was never too heavy, but trust me you do notice the weight but not to the point where you never want to carry it again. Even walking around with it in hand is a breeze.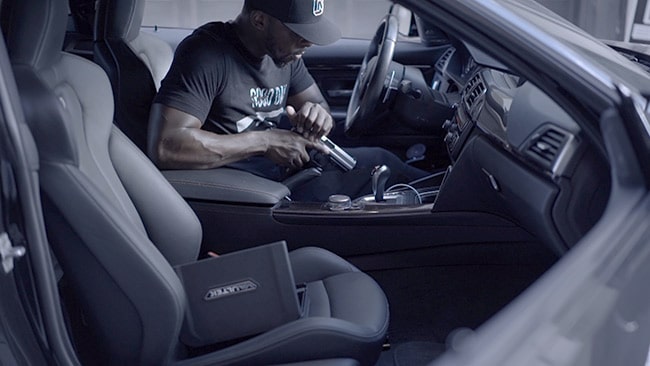 When I'm flying, I usually pack a compact and subcompact gun. If I'm carrying it in the car, I'll keep a full size with two spare mags. The only time I have had a problem doing this is with guns that are abnormally long like the Glock 34. Unless you're carrying a boot gun size gun, it'll be tough fitting a Glock 34 and a subcompact in the VT10i.
Security of Vaultek VT10i
When it came to security, my old safe wasn't going to win any awards any time soon. I just used it as a transport item because the airlines required it, but in reality, if someone wanted to get in the safe, they could. However, the VT10i is noticeably more secure than my old safe.
It's fitted with Anti-Pry bars; interior mounted bolstered hinges, anti-impact latches, security sleep mode with six consecutive incorrect keypad entries, tamper detection via hotkey and with the smartphone app, and quick release HD security cable. By and large, I got that list from a product sheet. In the real world, this safe is as secure as safe that's portable is going to be. Yes, I have more faith in the VT10i to keep a thief out long enough to make it trying to break into It not worth the effort, but at the end of the day, if someone really wanted in, it's possible. It Just won't be as easy as it was on my old safe.
Access, a lot of Access – VT10i
I like having options, so typically I want as many ways as possible to gain access to my guns inside my safe. The VT10i comes loaded with access options like the Biometric scanner, keypad, lock and key, and even a smart app.
VT10i's Biometric Fingerprint Scanner
I love the biometric fingerprint scanner, primarily due to its speed of use. Generally speaking, I can open the case in just under two seconds using the biometric reader, which is just a touch slower than the reader on my iPhone. The Biometric reader is consistent as hell. Every once in a while I'll have to readjust my finger to get a good read, but by and large, it's dead-on. There's a light right above the finger pad that'll turn green once it authenticates your fingerprint. With the VT10i you know immediately if your fingerprint can't be read by simply seeing the light indicator light up red.
However, one downside is how long it takes to let you know that it can't read your fingerprint. It takes about 4 seconds to indicate that it can't read your fingerprint if it's the wrong fingerprint or you didn't place your finger on it correctly. To get around this, if the light indicator doesn't turn green with-in two seconds I know somethings wrong and I readjust my finger.
The Biometric reader is slightly recessed on the safe making it easier to find the scanner on the safe even if it's dark and you can't see it, but it's also outlined in highly reflective chrome, so it's hard to not see it even in dark settings. With the biometric scanner, you can upload 20 unique fingerprints. That's more than enough to give access to the people in your family who need access to the safe.
VT10i's Number Pad
I love the intuitiveness of the number pads. All I have to do is get close to the number pads, and they illuminate red. The keys are surrounded by raised borders giving you extra tactility when in dark environments. The keys themselves feel like the keys on an apple keyboard, short throw but incredibly responsive. It'll register your password as fast as you can type it and once you do the lights illuminate green and the safe opens within less than a second. This is just fast enough to cause the safe to want to tip open when there are no guns inside.
Lock & Key
I'll be honest. I don't use this feature a lot. I use it as a backup in the event the battery on the case dies. Speaking of which, the battery on the VT10i lasts three months on a single charge. The beautiful thing is you always know the state of your batters by merely plugging in a micro, and four small indicator lights let you know how much battery you have left on the case. And charging it is as easy charging your cell phone. I've charged the case with a battery pack before.
Smart App
One of the dopest features is the smart app. The app shows you the safes battery level, notifies you when the safe is being tampered with. There's a history log that gives you an accounting of everything done to the safe, like if the interior light is adjusted and how and when the safe is opened. You can store multiple safes within the app and switching between the different safes is a breeze. You can also manage the fingerprints within the app as well.
The Pros and Cons of the Vaultek VT10i
The Pros
Portability – The VT10i hit's the sweet spot for being a gun safe that's big enough to be a desktop safe, but small enough to be dedicated travel safe.
Durability – Don't let its good looks fool you; the VT10i takes abuse with a smile. I've dropped it and dropped things on it, and the VT10i has handled it all. This, not a safe you'll have to baby.
Tech – Between the Biometric scanner, the illuminating keypads and the smart app, the VT10i is dripping with tech while still maintaining analogue reliability. It's a future-proof safe that's also easy to use.
The Cons

Not the lightest safe in the world – By no means is the VT10i a featherweight. A lot of the weight is due to the added security measures added to the safe like the 18gauge steel. The weight of the VT10i is by no means a deal breaker, but you will notice it a little.
It's not the cheapest safe but not most expensive either – – There are less costly safes on the market that will, "Get the Job Done" but if you're looking for a high-quality modern safe with a ton of options it's not going to be cheap and the VT10i isn't cheap, but it is reasonably priced compared to the other safes in this class. Vaultek is so sure that you'll fall in love with the safe that they're offering an amazing, no questions asked, 30-day, 100% money back guarantee.  And that, we think, speaks volumes about how good the product is.
The Bottom Line
In the six months, I've used this safe I've done a ton of travelling with it. I've dropped it on concrete, dropped objects on it and just generally abused it unintentionally, and it has the marks to prove it, yet it keeps going. I love this safe, I really do. I have no problem shamelessly gushing over the VT10i because I enjoy it that much. With an MSRP of $239 it is not a cheap safe nor is it an expensive safe considering what you get and what the safe does. The safe is versatile as hell. It's the one safe option if you're looking for a small safe for the house that's also portable enough for travel.