The closest thing to golf that I have ever played was top golf. The last time I was there my date threw her hat at me and called me an asshole because I kept reminding her that she sucked every time she swung. That being said, I always hear from people who play real golf that golf is the most expensive hobby you can pick up.
I find that hard to believe considering the ridiculously shameful amount of money I've spent on guns since becoming a Pew Pew Life enthusiast. Guns have been nothing but a financial money pit for me. To make matters worse, I have no plans of slowing down much less stopping my pursuit of tactical perfection.
If you're reading this, it's safe to say you share the same problems as I do and find yourself debating between eating or buying that optic for the 95th AR15 you bought after telling yourself the 54th AR-15 would be your last. Being in the gun industry the way that I am and for the time that I've been in it, I've become all too familiar with the retail mark up on guns and gun accessories out there on the Market.
Recently I came across Big Daddy Unlimited (I admittedly hate the Name), which may help ease some of the financial burden associated with our tactical addiction. Actually, Big Daddy Unlimited came across me by way of a personal friend in the industry. After more and more messages about doing a Big Daddy Unlimited Review, I decided to do just that.
WHAT IS BIG DADDY UNLIMITED?
In short, Big Daddy Unlimited is a subscription site where you can buy guns, ammo, and accessories at direct dealer prices instead of paying marked up retail prices that you find at gun stores, big box stores, and other online stores.
WHAT DOES IT COST?
To get straight to it, it usually costs $9.95 a month. However, I contacted Big Daddy Unlimited personally & asked them if they could do a trial period for my followers if they wanted to try it out for the first month. They agreed and decided to allow my followers to only pay .99 cents as a trial period. So basically, for .99 cents you get a month to see what you like and don't like about the site and after that month if you decided to stick around you pay $9.95 a month.
WHAT DO YOU GET?
The lifeblood of a site like Big Daddy Unlimited is the consistency of the discounts and the number of products available for purchase. Sure, it's great to get $50-$100 off the typical price of a Glock but if it's the only item you can buy it means nothing unless you're a die-hard Glock fanboy who buys a Glock every month. With Big Daddy Unlimited you have access to over 120,000 items at Factory Direct Pricing. I spent a fair amount of time on the site searching for things I would typically be interested in and typically found precisely what I was looking for.
THE PRICES
I'll give it to you Straight. Most of the time the prices on Big Daddy Unlimited were lower than those found elsewhere. Every once in a while, if I put a little extra effort to search for what I was looking for on a different site, I would find it for a lower price, but the difference in price was usually marginal. Otherwise, the price was either cheaper or the same amount. Most of the time it was cheaper and noticeably so.
SITE NAVIGATION
The site is pretty straightforward. The search bar is your best friend. It's not going to win any website of the year awards for navigability, but it gets the job done for what you need. Honestly, I think websites that try to do too much are annoying.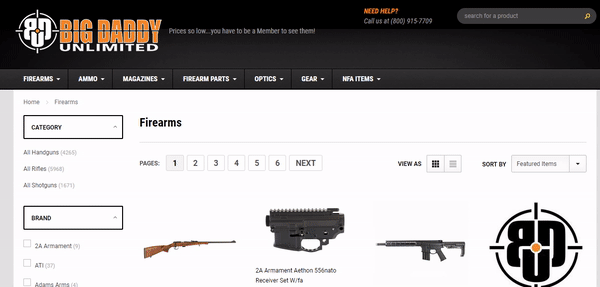 CANCELATION
You can cancel the subscription anytime you want. This shouldn't surprise anyone as we are in the age of what I call "Nominal Monthly" subscriptions and no ones signing contracts to lock themselves into a commitment unless it's a cell phone. Hell, even cell phones companies are starting to do away with the contract.
FINAL THOUGHTS ON BIG DADDY UNLIMITED REVIEW
$9.99 a month is hardly a lot of money. However, when you factor in $12.99 for services like Netflix, $10 for Spotify and all the other nominal monthly subscriptions it starts to add up real fast. I personally have a lot of nominal monthly subscriptions, but I'm at a point now where adding another is a big deal. From what I've seen, I think the site is at least worth a trial run. When you consider the 1-month trial period, it becomes a no-brainer for me especially if you like buying Tactical Things.
->>Click Here if you want to try it out for the Trial period for .99 Cents<<